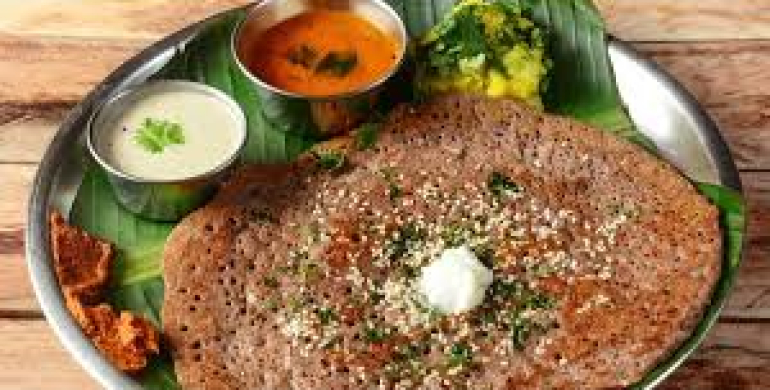 Ingredients
Ragi flour – 1/2 cup
Wheat flour – 1/4 cup
Chickpea flour – 1/4 cup
Oil/ghee – 1/4 cup
Curd – 1/2 cup
Green coriander – 2 to 3 tbsp (finely chopped)
Green chilly – 1 (finely chopped)
Ginger – 1 inch piece (grated) or 1/2 tsp paste
Salt – more than 1/2 tsp or to taste
Prepare the dosa batter
Take ragi flour and wheat flour in a big mixing bowl, followed by chickpea flour. Now add curd to it. Add water in small portions and stir until all lumps dissolve completely. After this, add salt, ginger, green chilli or some green coriander. Add some more water and make the batter a little thin in consistency. Batter is ready and for this much batter 1/2 cup water and 1/2 cup curd is used. Cover and keep the batter aside for 20 minutes to set.
Roast the dosa
After 20 minutes when the batter turns puffy, whisk it nicely. Heat a non-stick pan over the flame. Pour some oil over the pan and spread it evenly using a napkin paper. When the pan is heated well, reduce the flame and let it cool down a little. When the pan is medium hot, pour 2 tbsp batter over it and stir in circular motion very thinly. Now increase the flame. Spread some oil all around the dosa and over it as well. Let it roast from beneath until it gets golden brown. After this, flip the side of dosa and let it roast from the other side as well until it gets golden brown spots.
Dosa is roasted well, reducing the flame and taking it off from tawa. Likewise prepare the rest of the dosas as well.
Raagi dosa is ready, these are also known as raagi cheelas. Super healthy and tempting raagi dosa and serve steaming hot with chutney, curd, tomato ketchup, chilly sauce or coconut chutney and relish eating. Pack them in tiffin with tomato sauce, jam or sweet pickle.
Suggestions
You can also prepare batter with rice flour.
Instead of a non-stick pan, non-stick tawa can be used.
While spreading the batter make sure that the batter is not too hot. Let it heat sufficiently, then reduce the flame and let it cool down a little else it will get difficult to spread the batter.
You can also add finely chopped spinach or methi leaves to give them a different taste and flavour to these raagi dosas.