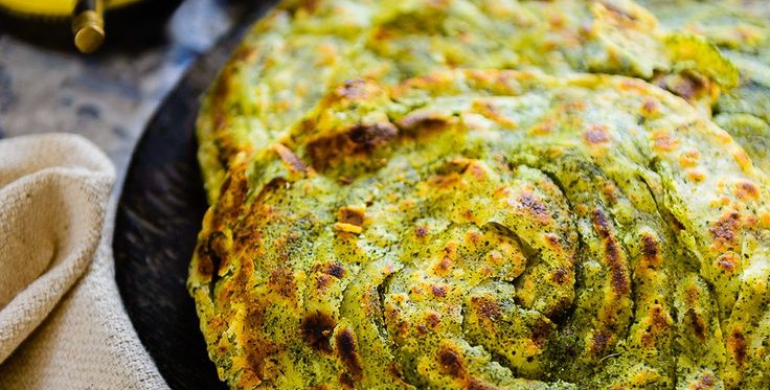 Spinach Layered Paratha – Palak Laccha Paratha
Ingredients
Wheat flour/refined flour – 2 cup
Spinach – 200 grams
Ghee – 3-4 tbsp
Ginger baton – ½ inch
Green chilly – 1
Salt – ½ tsp or to taste
Carom seeds – ¼ tsp
How to make Palak Laccha Paratha
Prepare spinach puree
Cut the spinach roughly, peel the ginger and cut the green chili into two halves. With the help of a little water, finely grind these ingredients in a mixer jar. Spinach puree is ready.
Knead soft dough
Mix spinach puree, 2 tsp ghee, carom seeds and salt. With the help of water knead soft dough. For this much water 1/2 cup of water is used. Cover and keep aside for 15 to 20 to set.
Roll out the paranthas
Grease your hands with ghee and knead the dough again. Now make small from the dough and roll into a dough ball. Dust it with dry flour and with the help of a rolling pin roll it our thinly. Spread some ghee over the rolled parantha and fold into a roll giving layers. Roll it round and close it. Dust with some dry flour and roll out into 5 to 6 inch diameter parantha.
Roast the parantha
Heat the tawa and spread some ghee over it. Place the rolled parantha into it for roasting. When it is roasted from beneath, flip the side of parantha. Now when it is roasted from the other side as well, apply some ghee over this side and spread evenly.
Flip the side again and apply some ghee over this side as well. Press down the parantha with a spatula and roast until it gets brown spots. Keep the flame medium. Take off the roasted parantha from tawa and place it over a bowl kept above the plate. Likewise prepare the rest of the paranthas as well.
Serve these sumptuous paranthas with dahi, raita, pickle, chutney or any sabzi as per your desire.